Foam Glass is one of the most recent insulating system in the documentation and technical specification of oil & gas refineries, petrochemical and power plant as a priority of hot & cold insulation system.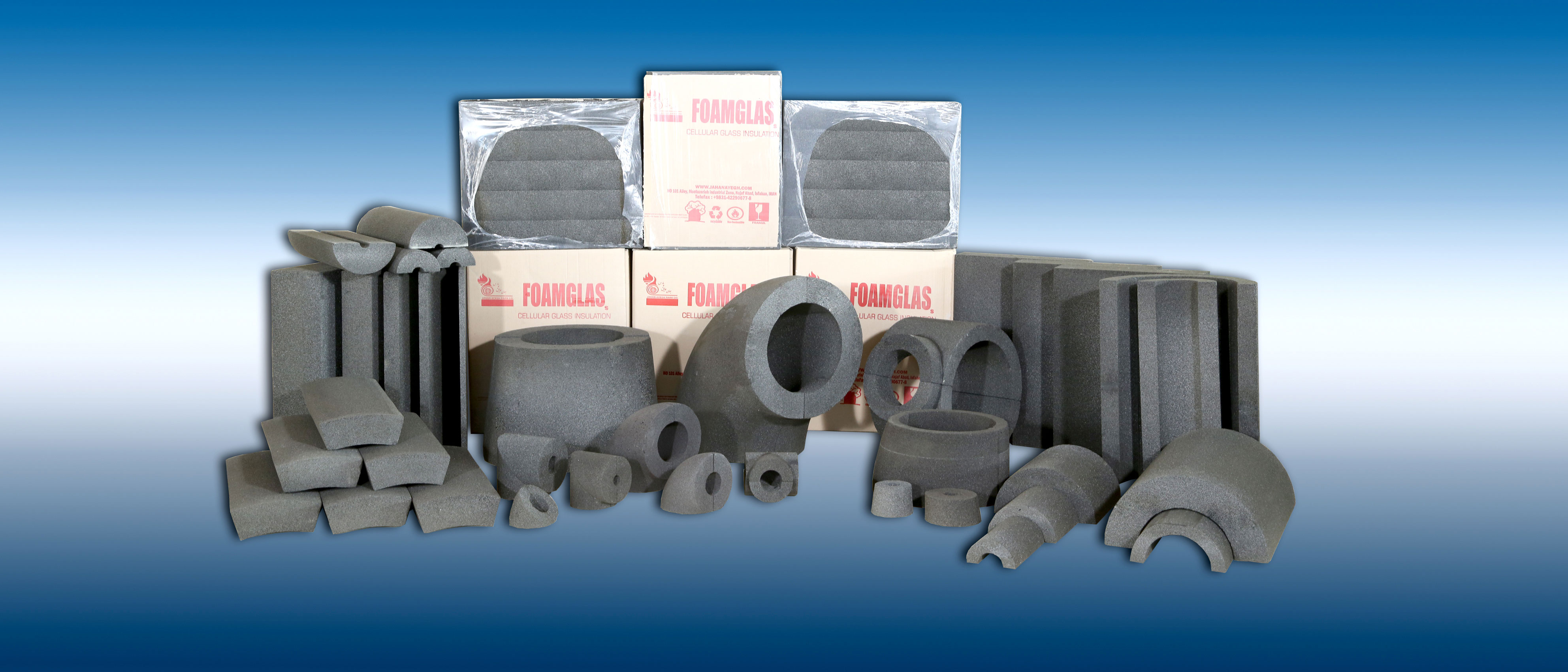 Foam glass is a convenience alternative to Rock Wool or PIR & PUR according to its advantages such as high Compressive & Flexural Strength, Water & Vapor Barrier, Use on the floor of tank and underground pipelines, Extreme Chemical Resistance, Non-Destruction of Environment & Ozone Layer. It's a kind of cold insulation which the temperature ranges from -268 to + 482 ℃ and is produced exclusively of glass, with some other additives in its composition acc. to ASTM C552 in basic block form. Blocks are fabricated into a wide range of shapes, thicknesses, densities and sizes to satisfy industrial insulation requirements.
Cellular Glass is the best insulation to be used in solar panels (solar panel roof and facade system) because of its great compressive and non-combustibility.

No deterioration of thermal conductivity


Vapor and water resistant


Dimensional stability


Chemically neutral


High compressive strength


Resistant to insects and rodents
Due to lack of cellular glass production in past years and some matters like: Exit Exchange, Higher price in compare with another kinds of insulation, Impossibility of carrying out quality control process on imported products, Sanction and impossibility of supplying from authoritative sources thus less project in domestic oil & gas refineries and petrochemical has been used of the insulation.

Although there isn't any scale for corrosion resistance of PIR but concerning to nature of the glass as well as lack of chemical material and additives in foam glass structure which is without binder therefor is highly resistant to corrosion in various environment.
It should be noted that foam glass is the only insulation use for both hot and cold application with different thicknesses that some spec is as following:

Spec of insulation for hot & cold application, TOTAL CO.


Spec of cold insulation, phases 12& 19 of South Pars, Petropars Co


Spec of cold insulation, phases 15& 16 of South Pars, Aria Naft Co.


Spec of cold insulation, phases 13,22 & 24 of South Pars, Iranian Petro Paydar & Petrosina Petrochemical Industries Co.


Spec of cold insulation, Bueshehr Petrochemical


Spec of cold & hot insulation, Ilam Petrochemical


Based on Spec of insulation at phases of South Pars to use foam glass in LPG lines & the lines out of the phases that include one layer of PIR and one layer of Foam Glass.
Foam Glass properties in compare with PIR:

Compressive strength of Foam Glass is 1.5 to 2.6 time more than PIR


Water barrier of Foam Glass is 4 to 10 time more than PIR


Vapor barrier of Foam Glass is 600 time more than PIR


Flame Spread Index of PIR is about 5 time more than Foam Glass
Comparison between PIR & Foam Glass
Due to nature of the glass as well as lack of chemical material and additives in foam glass for fire resistance parameter is non combustibility.
According to abovementioned matters and considering advantages of foam glass to PIR & Mineral Wool (considering all kinds of insulation at Jahan Ayegh Pars Co.) and due to huge investment made by Jahan Ayegh Pars Company as a first domestic and middle east manufacturer, it's possible to replace Foam Glass with competitive price with PIR.
Some of Foam Glass projects implemented by Jahan Ayegh Pars:

Mapna Group


Ilam Petrochemical


Sepahan Oil Co


Takhte Jamshid Petrochemical


Pars Petrochemical


Amir Kabir Petrochemical


Persian Gulf Petrochemical